CP-55 Residential Concrete foundation Technician
A Residential Concrete Foundation Technician is an individual who has demonstrated knowledge of residential concrete foundation construction and the codes and standards that apply to this segment of the concrete construction industry.
Specific areas of knowledge covered in this program are:
Building Codes
Soils and Excavation
Footings
Foundation Walls
Cold-Weather Concreting
Concrete Properties and Placement
Backfilling
Waterproofing, Dampproofing, and Drainage
Troubleshooting

This program requires demonstration of the knowledge covered on the Job Task Analysis (JTA):
JTA for ACI Residential Concrete Foundation Technician Certification
The JTA is a detailed list of specific points of knowledge that may be included in the examination for this ACI Certification program. ACI urges candidates to use the JTA to prepare for the certification exams.
Certification Requirements:
ACI will grant certification only to those applicants who attain a passing grade on the ACI written examination.

The 2.5-hour (150 minutes) written examination is open-book and consists of approximately 80 multiple-choice questions. To pass the written examination the examinee must attain a minimum score of 70%.
Study Material:
Although the workbook is included with the pricing, if you would like to get your workbooks before the workshop, you may arrange to pick it up from the ACI Houston Office. Workbooks will not be mailed. Additional workbooks and study packages are also available from the ACI Bookstore.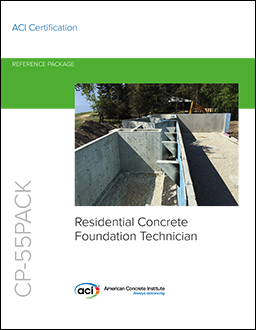 This package contains all of the resource materials needed to properly prepare for and take the examinations for certification as an ACI Residential Concrete Foundation Technician. The reference package contains:
ACI 332.1R Guide to Residential Concrete Construction
ACI 332-14 Residential Code Requirements for Structural Concrete and Commentary
CFA Cold Weather Research Project Report: Casting Residential Foundation Walls in Cold Weather
CFA-TN-001 Using ACI 332 with the IRC
CFA-TN-002 Backfilling Foundation Walls
CFA-TN-003 Casting Residential Foundation Walls in Cold Weather
CFA-TN-004 Cracking in Concrete Walls
CFA-TN-010 Waterproofing, Backfill, and Maintenance
CFA-TN-011 Soils & Excavation Safety
CFA-TN-012 Concrete Basics for the Residential Contractor
ICC International Residential Code (IRC), Chapter 4

Program Policy: